Whilst cleaning vinyl wrap cars generally requires specialised skills, products and tools, we are here to provide you with some expert tips on how to clean your vinyl wrapped vehicle from the comfort of your own home! Alternatively, you can visit the B&S Detailing Logan showroom and get one of our friendly experts to take care of all your car vinyl wrap cleaning needs instead!
After investing time and money into the creation and installation of your vehicle wrap, a car vinyl wrap should never just be installed, and then forgotten about. Taking the time to frequently clean and maintain it like any other part of your car will ensure that its appearance and finish are retained well into the future. In order to maintain vibrant and longer-lasting colour and extended vinyl car wrap protection, you will need to wash it regularly and lessen your vehicle's exposure to potential environmental pollutants and contaminants where possible.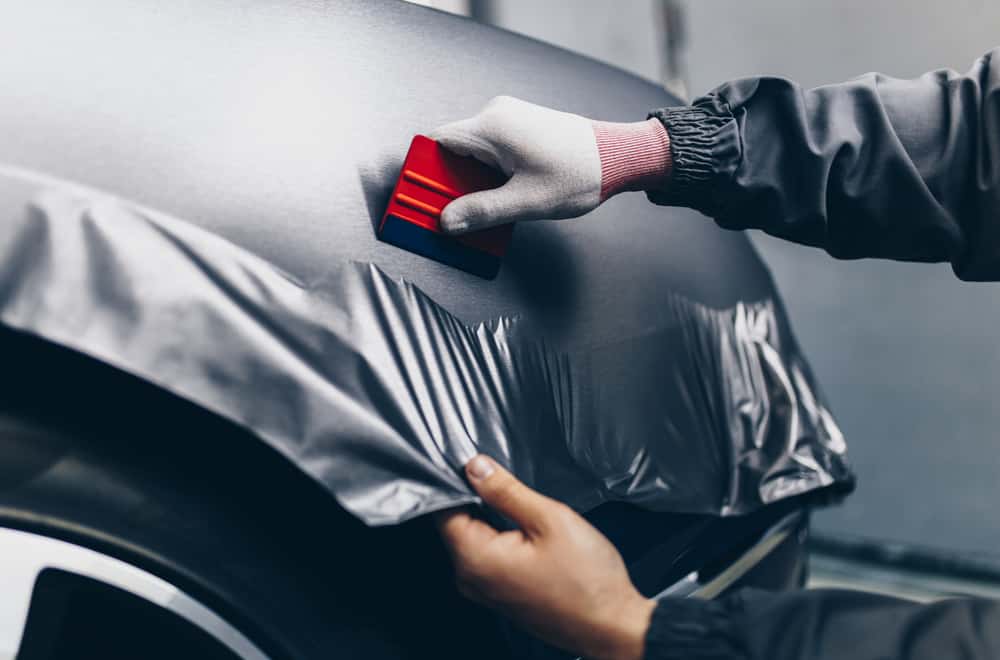 If you're an avid car enthusiast or vehicle owner that loves to keep their car in top condition, then you know that vinyl wraps are a popular and easy way to change the look of your car. While they're easy to install and care for, they do need to be regularly cleaned properly, with the right tools and products, in order to maintain their sleek appearance.
In this blog post, we will share our top professional car detailing tips on how to clean vinyl wrap cars and also outline the specific steps you need to follow to ensure your vinyl-wrapped car continues to look amazing all year round. Keep reading on to learn more!
Cleaning Vinyl Wrapped Cars
Wrapping your car is one of the most modern ways to improve its appearance, make it your own and distinguish it from similar models on the road. In recent decades, vinyl wrap technology has rapidly evolved from being a largely commercially only used product to something that is widely applied by many private car owners.
The increasing popularity of exterior car covering application, such as vinyl car wraps, has also seen the introduction of an array of innovative car care methods that differ from typical paintwork and ceramic coatings.
Specifically, you should learn how to take care of and wash your new vinyl car wrap correctly to achieve the best results. You must also have a plan in place for maintaining it as well. In our article, you will discover why taking care of your vinyl car wrap is crucial for its longevity and durability and ensures that it stays looking fantastic!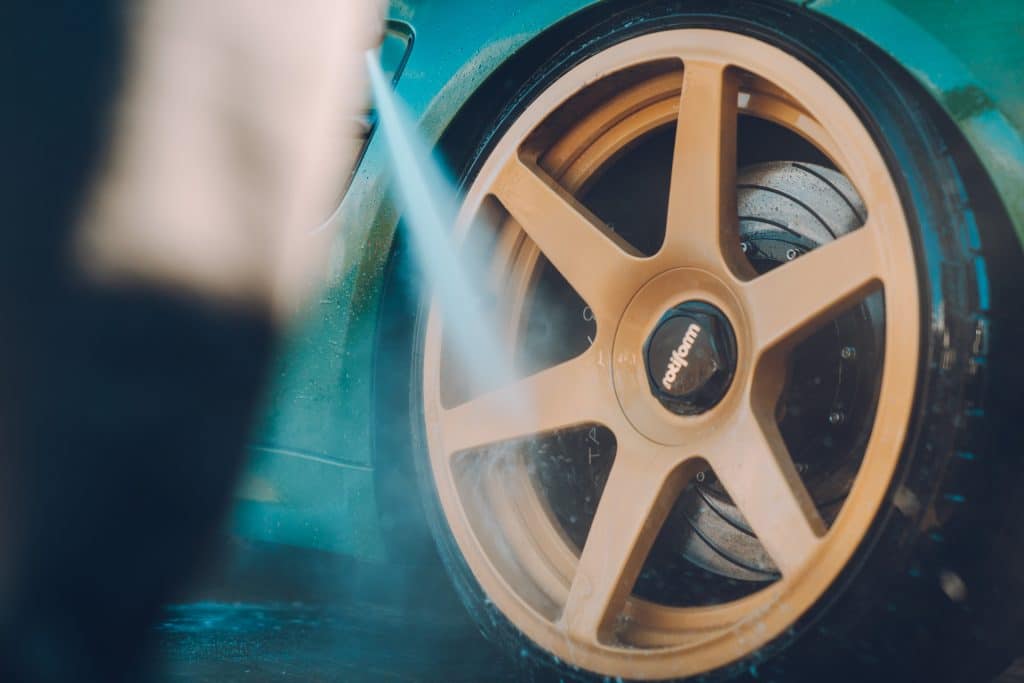 Vinyl Wrap Car Care - Everything You Need to Know!
First of all, it's important to remember that vinyl car wraps are designed to be temporary and unfortunately, they simply aren't as durable & robust as traditional vehicle paintwork. However, with proper care, you can definitely extend your vehicle's exterior and the life of your car wrap by utilising the right tools, methods and car wrap-specific cleaning products to ensure it continues looking great well into the future!
The main difference between car paint and vinyl car wraps is that the surface of the wrap is generally a lot softer than that of paint. This means that vinyl can be more easily damaged or scratched. Due to the softer nature of vehicle graphic materials, two crucial points for maintaining the surface must be taken into account. For car paint protection, these two points are the same; the only difference is that they are much more crucial to the appearance of vinyl car wraps. The first is surface protection, and the second is washing and/or cleaning.
Vinyl car wrap surface protection is also extremely important to look into as an owner of a vinyl wrapped car. It refers to what you intend to coat your wrap with to assist in protecting, cleaning, and maintaining it. If you're wanting to protect your vinyl car wrap from everyday contaminants & light surface scratching, you usually require some kind of surface coating such as a ceramic paint protection coating. Having a slick surface makes it a lot easier to wash and take care of your wrap.
Let's take some time now to further explore the best ways to effectively wash and maintain your vinyl car wrap in the right way to extend its life for many years to come.
Our Top Tips on How To Clean Vinyl Wrap Cars
Whilst a vinyl wrap is a great way to fit out and protect your vehicle's exterior, vinyl car wraps aren't meant to just be installed and then merely forgotten about. They require specific maintenance and regular care to ensure they remain in top condition.
To help extend the life and look of your vehicle wrap, you will need to make sure that you wash it on a regular basis, as well as not expose it to possible contaminants wherever possible. This will help preserve the vinyl wrap for longer as well as help keep any vibrant colours from prematurely fading. 
If your car features 3M vinyl wrap graphics, it is recommended that you use particular products that are recommended for this type of product to help keep it looking its best for years to come.
How Often Do You Need to Clean Vinyl Wrap Cars?
As with any vehicle, it's best to wash your vinyl wrapped car whenever it appears dirty, as any remaining contaminants on your vehicle graphics can become considerably more challenging to remove, the longer they sit.
For especially stubborn contaminants such as bug splatters, tree sap, bird droppings, and road tar, you should try soaking them for several minutes with soapy, hot water. The application of some denatured alcohol may also help loosen and remove these if you are finding it particularly difficult.
Special cleaning solutions can also be applied prior to a full car wash if required. It's important to remember that after you have finished removing any contaminants, you must immediately wash and rinse off any product residue.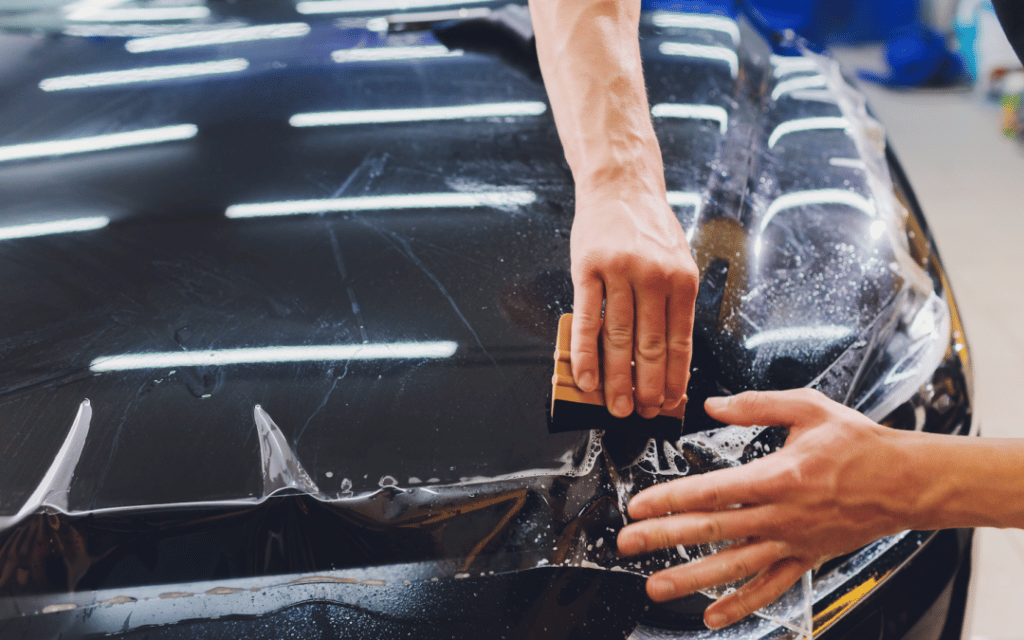 Find Out How to Clean a Vinyl Wrap Car Like a Pro!
A key point to remember when cleaning vinyl wrap cars is to never use any abrasive tools or rough scrubbing actions as this can cause permanent damage to the film. Hand washing your vehicle is the preferred method of cleaning a vinyl car wrap. Follow these specific steps below for the best way to clean a vinyl wrap car:
To begin, thoroughly rinse off as much grit and dirt as possible with a light spray of water.

Using a soft, clean microfibre cloth or sponge, and a non-abrasive detergent, wash your wrap, taking care not to rub in one spot with force.

When finished, rinse your vinyl wrapped car thoroughly with clean water, followed by immediately using a silicone squeegee to remove any water excess.

Finish your vehicle off with a light wipe of a clean microfibre cloth.
Although vinyl wrapped vehicles can be run through a touchless car wash, handwashing ensures the best results and minimises the chance of damage Brush car washes should definitely be avoided as these can cause irreversible marks to your vehicle wrap, including dulling, scratching, and lifting the edges of the film.
A pressure washer can be used to wash vinyl wrap cars, however certain conditions need to be followed, including:
Use a spray nozzle with a 40-degree wide-angle spray pattern.
You must keep the nozzle at least 30cm away from & at 90 degrees to the graphic at all times.
You must ensure the water pressure is kept below 2000 psi (14 MPa).
Keep the water temperature below 60 °C.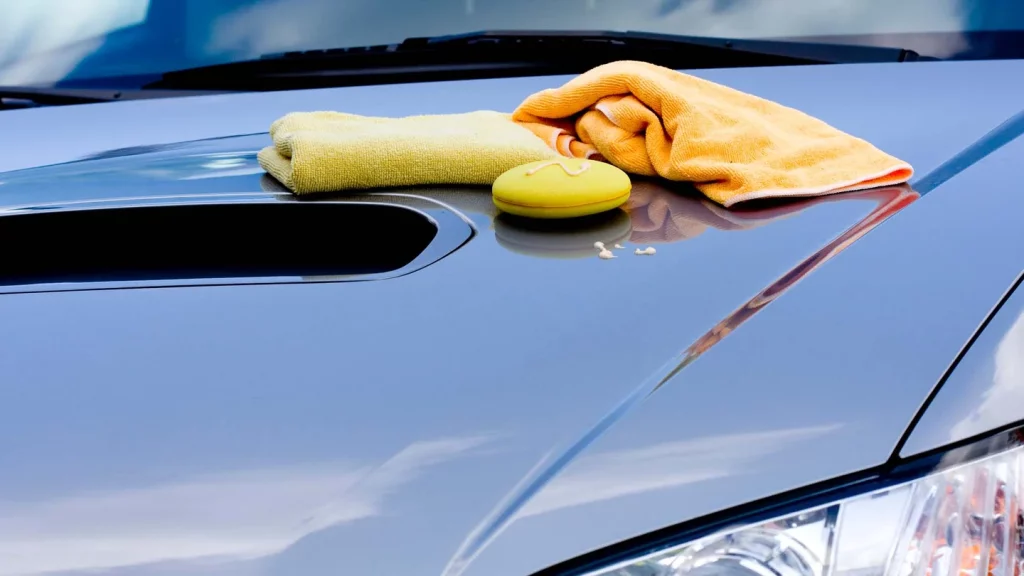 It's important to note that holding the pressure washer nozzle at an angle to car wrap can potentially lift the edges of the film. Some other care tips to keep in mind when cleaning a vehicle with a car wrap include:
Immediately remove fuel spills to avoid degrading the vinyl and adhesive.

Avoid using abrasive polishes or cutting compounds such as wax.

Remove wax or residue with an all-purpose cleaner.

Don't allow your cleaning solution to stand and soak into the vinyl car wrap – immediately rinse it with clean water.

Store your vinyl wrapped car in a shaded covered area or indoors wherever possible to help preserve and protect its exterior. If you don't have a garage to store the vehicle in, consider using a cloth car cover to protect it overnight against rain, dew or acidic pollutants.
At B&S Detailing, our expert team of professional vehicle detailers can provide the care and attention that your vinyl wrapped car deserves. Our Logan showroom is equipped with the latest car care technology, tools and car vinyl wrap cleaning kits & products to ensure an immaculate end result.
Whether you drive a vinyl wrapped car for personal use, or you need an entire fleet of company cars expertly cleaned and detailed – our team boasts the high-level expertise and experience to get the job done! Call us today for a free quote or learn more about our car wrap detailing packages now.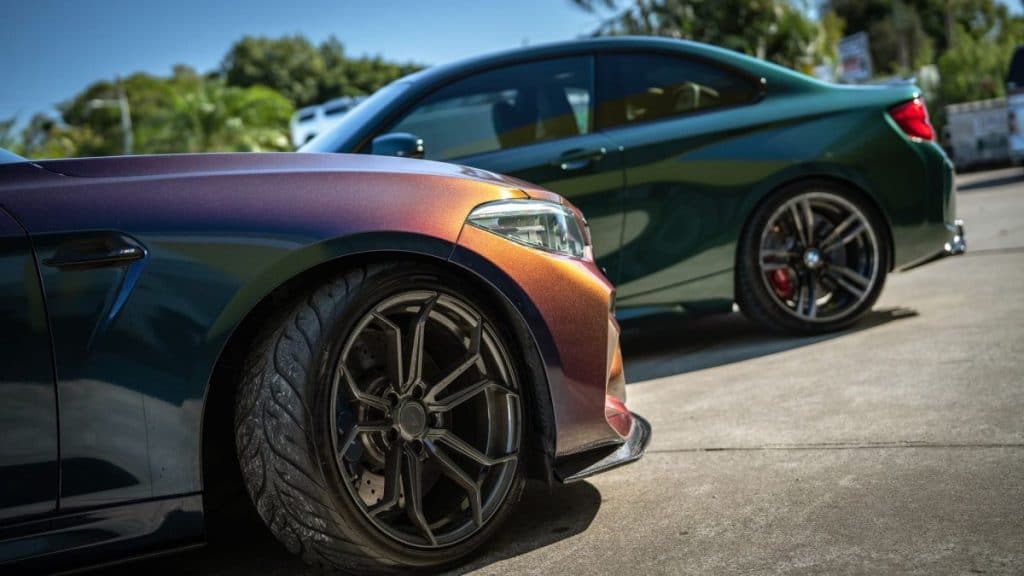 Wash a Vinyl Car Wrap Using the Two Bucket Method
Another recommended method of cleaning your car wrap is using two buckets – one for detergent which is your clean bucket, and one to rinse off the microfibre cloth, wash mitt or sponge right after touching the car and before that mitt goes back into the detergent bucket.
This will keep abrasive contaminants like dirt particles from contaminating your finish. By employing the correct washing method, you can mitigate this risk and maintain a scratch-free car wrap finish for many years to come.
Washing or getting a basic detailing job done more often on a vinyl-wrapped car is recommended as well. This is to ensure that damaging contaminants are removed from the surface as soon as possible. This is important for proper care of any wrapped or coated car exterior as a vinyl surface is much more prone to staining than a painted surface is.
Do's & Don'ts on How to Clean Vinyl Wrap Cars
Can You Apply Car Wax to a Vinyl Car Wrap?
Once the vinyl wrap is applied to your vehicle, it's imperative for you to consider using a high-quality paint protection system and suitable products in order to properly maintain and protect the wrap for years to come. 
Car owners commonly ask about whether or not it is safe to apply car wax to their vinyl wrap. As it is a compound, you're actually rubbing it into the pores of the vinyl which cannot properly escape. Thus, it further embeds into the film and can increase the breakdown rate of the PVC film. Vinyl film is also a lot more porous than car paint, meaning that it can more easily absorb contaminants than paint will.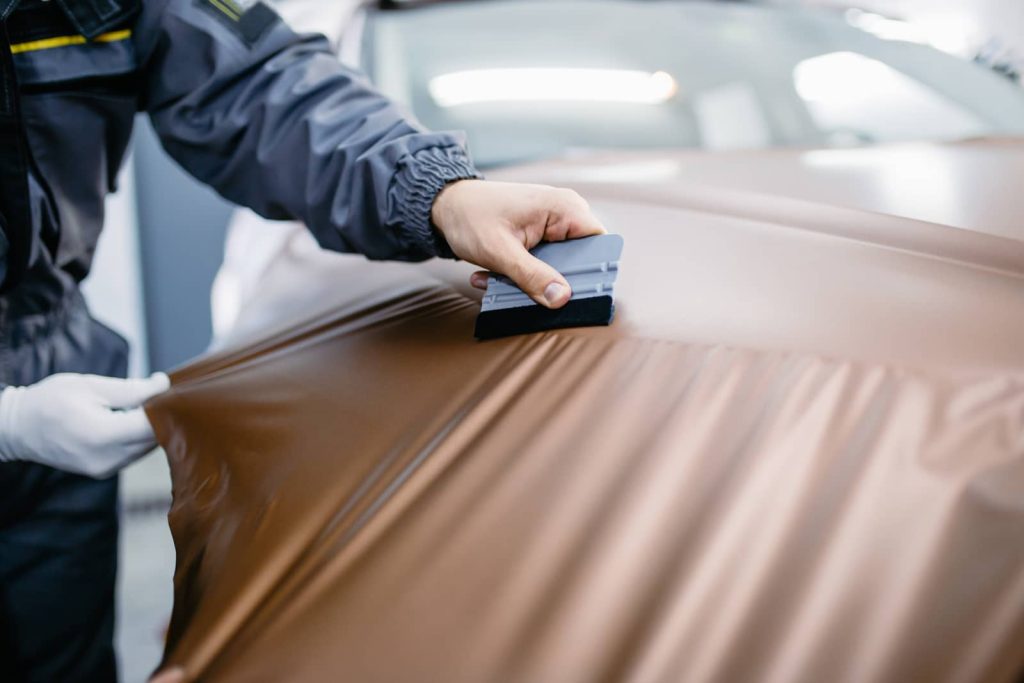 Caring for Your Vinyl Wrapped Vehicle Properly
It's always recommended to seek the advice of the vinyl wrap installation company or an auto detailing provider for the proper care and maintenance instructions for your vehicle wrap. Generally, strict restrictions on the products, techniques, and procedures used to wash and care for vinyl wraps apply in regard to the warranty conditions.
Different grades of vinyl wrap also exist and not all of them have the same care and maintenance instructions so it is important to follow steps that are specific to the type of vinyl wrap material it is made of.
Generally, a vehicle wrap, or vinyl graphics should be washed weekly or bi-weekly to help remove debris, contaminants and pollutants that can damage the vinyl material. Whilst washing a vinyl wrap frequently can accelerate the breakdown of colours, designs or vibrancy, the most important thing to remember is how and what car wash products and car care tools are used.
Like any other protectant, whether it's a ceramic coated vehicle or its a vinyl wrap car, the best products to use are those that are pH neutral, do not contain wax or any other 'protective' agents as these can inadvertently strip the vinyl material. Where possible, you should also utilise the two-bucket method when washing vinyl wrap cars.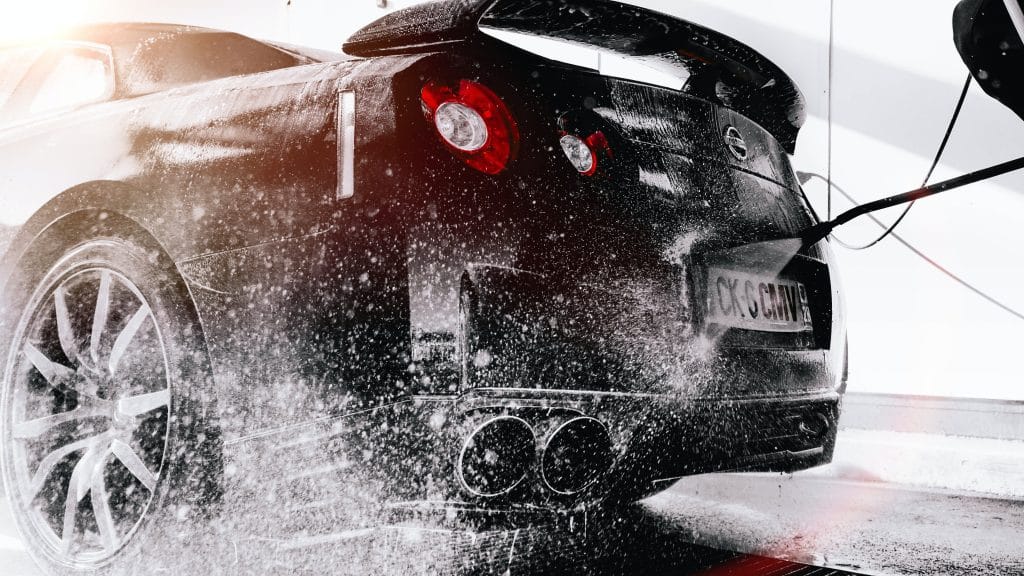 How to Best Clean Vinyl Wrap on Cars?
Vinyl wrap cars have become commonplace on today's roads, and are a sure-fire way to promote your business and brand name, whilst also providing a fun way to protect your vehicle, make it look unique and draw attention. So if you are actually considering it for your vehicle, maybe you are wondering – is it worth it, and how to clean vinyl wrap cars?
Before You Wash a Vinyl Wrapped Vehicle
A vinyl wrap adds an extra layer of protection to your car's paintwork. It safeguards a car against stone chips, grime, dust, sand, tree sap, bird droppings, and more. It can also protect your vehicle from powerful UV rays, snow, and rain.
The most popular vinyl wrap brands are 3M and Avery. When they are properly installed, a vinyl wrap can stay functional and aesthetically pleasing for many years to come but it's important to remember that no matter how tough it is, you still have to clean it on a regular basis as weather elements and contaminants can ruin the exterior of your car wrap if left untreated. 
After all, auto preventive maintenance and regular washing and detailing always works out more cost-effective than dealing with the results of months or years of neglect in the long run. The question is though – how to wash a vinyl wrapped car? Do you have to do it by hand or is it safe to take it to an auto car wash? Also, what are the best materials, products & tools to use for your vehicle?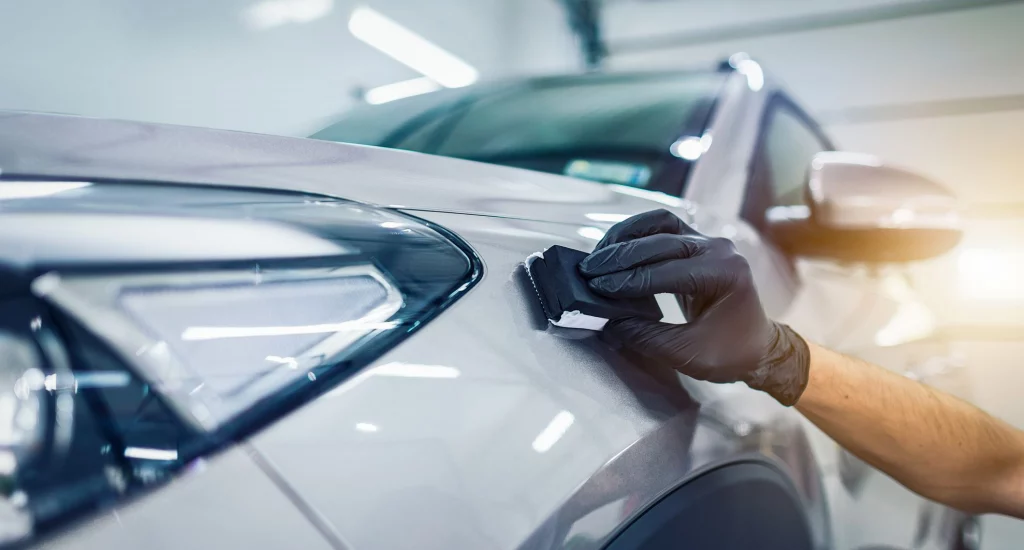 Top Tips on How to Wash a Vinyl Wrapped Car
Pre Wash
Be Gentle on Your Vinyl

– as it's softer than paint, you have to exercise caution when cleaning it.

Refrain from using abrasive detergents or cutting compounds as these can scratch the vinyl. You should also use recommended specific products that are recommended for cleaning vinyl wraps.

Stay Away from the Sun –

clean your car in a covered area to prevent water and soap from drying up quickly to avoid hard water spots.

Clean According to Your Vehicle's Condition –

if your car is too dirty, use a pressure washer but make sure the pressure does not exceed 2000 psi and that the temperature is in the ideal range. If your car is not too dirty, the reliable two-bucket method is recommended.

Avoid soaking your vinyl

– you should not let cleaning solutions stand and soak and instead, rinse it off immediately as prolonged exposure to cleaning substances can loosen the adhesive underneath.
Use the Right Tools & Materials –

gather all the materials and tools for washing your vinyl wrap car. Here's what you'll need:

Car wash soap – follow your detailer's choice for this product to ensure superior results.
Washcloths – sponges can also be used as an alternative.
Microfibre towels – best for thorough drying.
Squeegee – for quick drying while working.
Pressure washer – for very dirty vehicles.
Perform a Paint Check –

check your car's paint for stubborn contaminants via a detailed inspection of your car's exterior. Any contaminant, such as bug splatter, tree sap, tar & bird droppings, should be soaked with hot soapy water for a few minutes then rubbed with a clean washcloth or sponge. Repeat the process if necessary.
Rinse –

wash the entire car with clean water to remove base level grime, debris & dirt as this ensures that no contaminants will scratch the vinyl.
Tyres Go First –

Just like cleaning a non-wrapped car, it's best to clean the tyres initially. Doing this will save you time from rinsing or drying your car for a second time.
Roof Work –

this should be done section by section – shampoo, rinse, and dry with a squeegee to prevent the car wash soap from seeping underneath the vinyl.

Air Dry

– allow the vehicle to air drop where possible & you can also use a microfibre cloth to wipe off any excess water.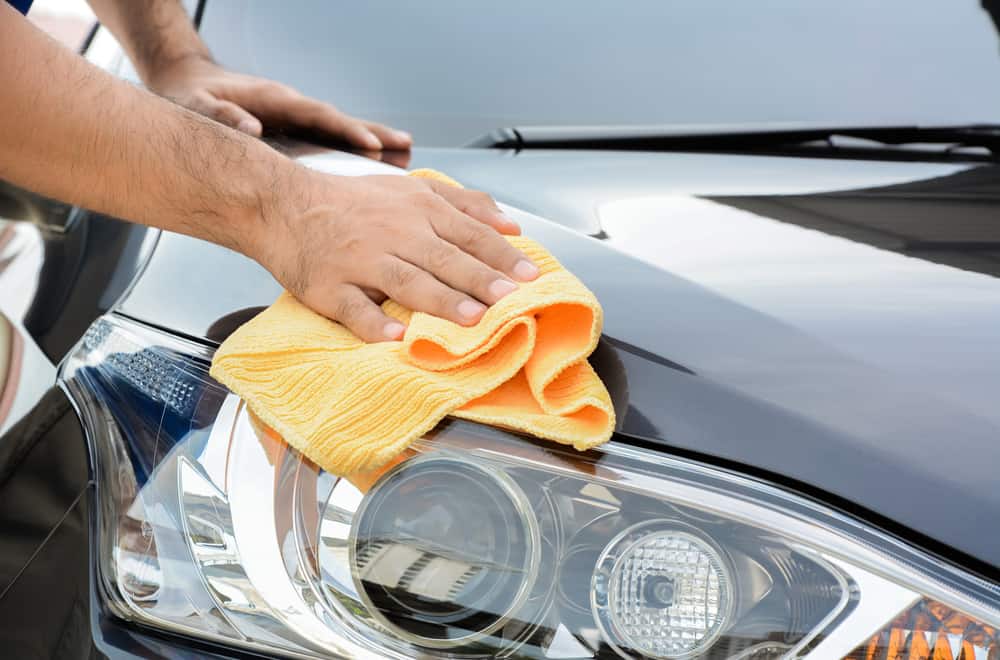 How Often Should You Wash Your Vinyl Wrapped Car?
The vinyl on your car protects it from both natural and man-made contaminants. However, you should also clean it as often as you would clean a non-wrap car. If contaminants are left on vinyl wrap cars for an extended period of time, you may scratch the vinyl and cause fading & potential permanent damage.
If you want the best results for your vinyl-wrapped car or marine vessel, you should schedule a service with the professional Auto Detailing Brisbane experts at B&S Detailing. Our friendly & experienced car detailers will be more than happy to clean your vehicle and restore it to its former glory! Get in touch with us today to find out how we can help extend the life of your vinyl wrapped vehicle!